Endodontic Case Assessment
Advances in the understanding of endodontic pathosis, aseptic technique, and principles of canal preparation and obturation have led to significantly increased and predictable healing rates for endodontic treatment—95% and higher under ideal conditions (Salehrabi R, Rotstein I. J Endod. 2004 Dec;30(12):846-50). However, the treatment must be delivered in a predictable manner by the treating practitioner to optimize the healing potential.
The AAE has developed practical tools to help every dentist overcome case assessment pitfalls:

This newsletter discusses endodontic treatment planning, case assessment and referral from a specialist's perspective.

A comprehensive list of references supporting the topic of case assessment and referral.

The Assessment Form enables a practitioner to assign levels of difficulty to a particular case by assessing risk factors that may affect the outcome of treatment.

This article discusses the value of effective referral relationships.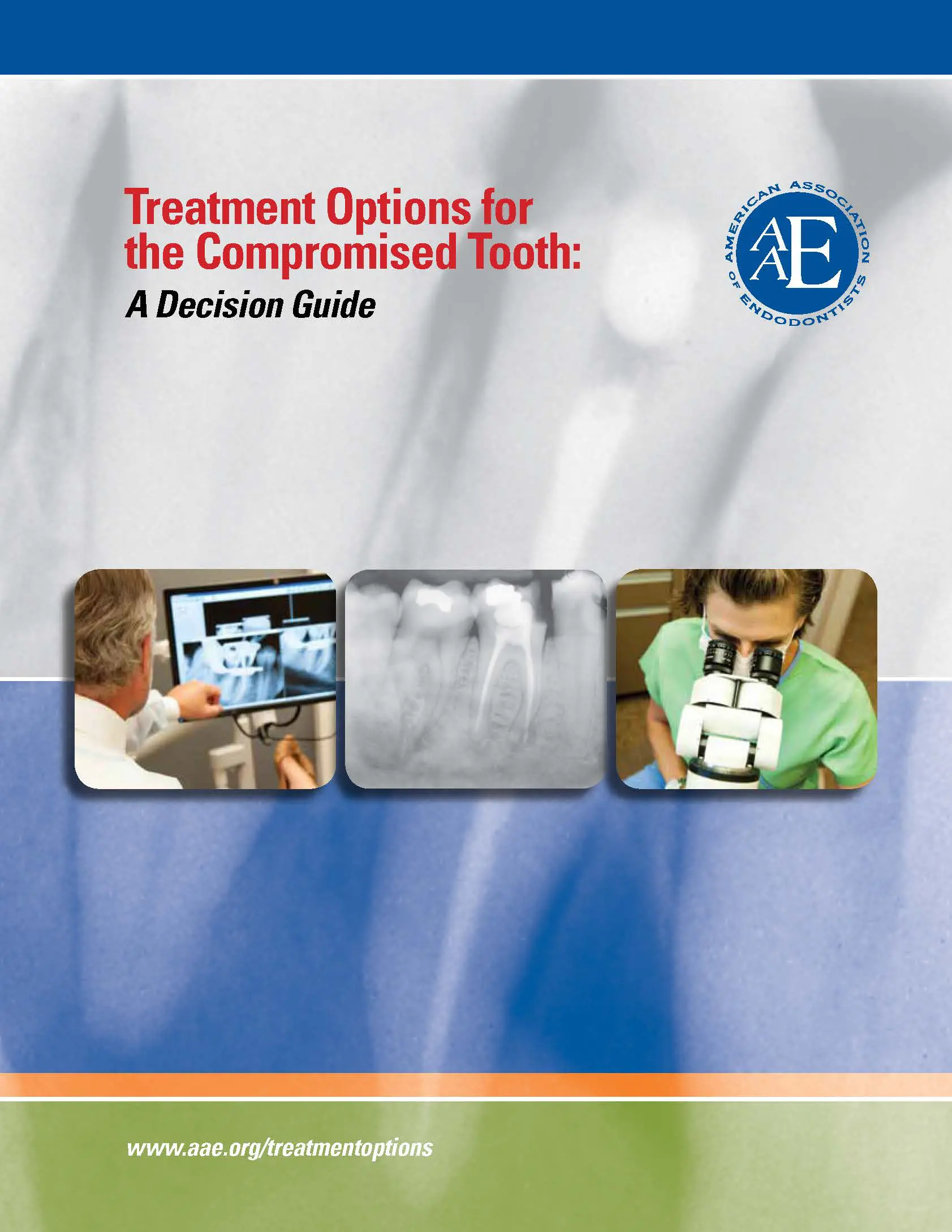 Use this to assess all possible endodontic treatment options before recommending extraction of the natural tooth, and consult with your endodontist partner to develop treatment plans that could save the natural dentition. Endodontists and dentists are partners in delivering optimal dental patient care.
Referral Form
We have made a simple form that you can give to your patients when you are referring them to our office. Simply fill it out with the necessary information and print it our for them. It also contains our contact information and a map to our office.
Colleagues for Excellence Newsletter
The colleagues for excellence is a clinical newsletter published biannually by the American Association of Endodontists. It is a wonderful resource that provides thorough summaries of some of the most current endodontic topics. Follow the link below to select issues from the colleagues for excellence archive.
Why is Sonendo the best technology available for Root Canal Treatments?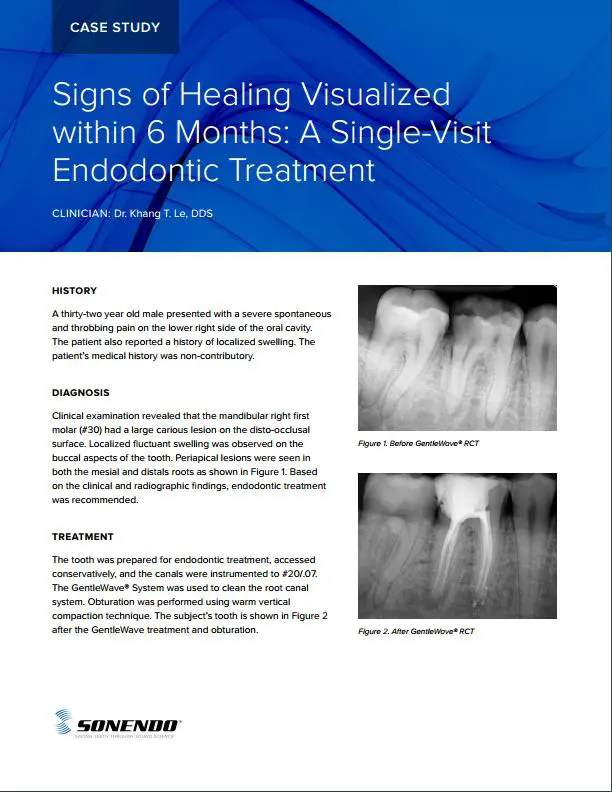 SIGNS OF HEALING VISUALIZED WITHIN 6 MONTHS: A SINGLE-VISIT ENDODONTIC TREATMENT
Outcomes: A mandibular right first molar with a large carious lesion on the disto-occlusal surface was treated with the GentleWave System. Signs of healing were observed within three months after the initial root canal treatment.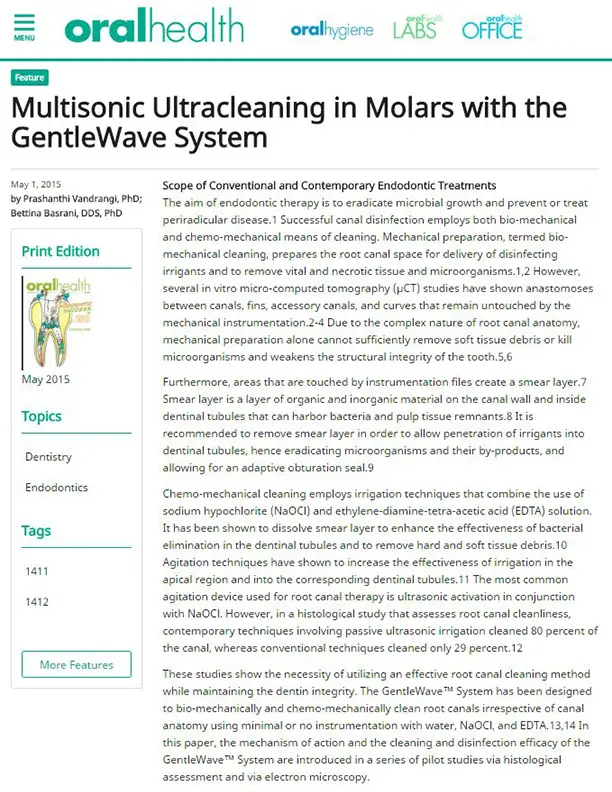 EVALUATION OF DISINFECTION USING THE GENTLEWAVE® SYSTEM IN MOLARS
Conclusions: The GentleWave System substantially removes biofilm from the root canal system when compared to contemporary techniques.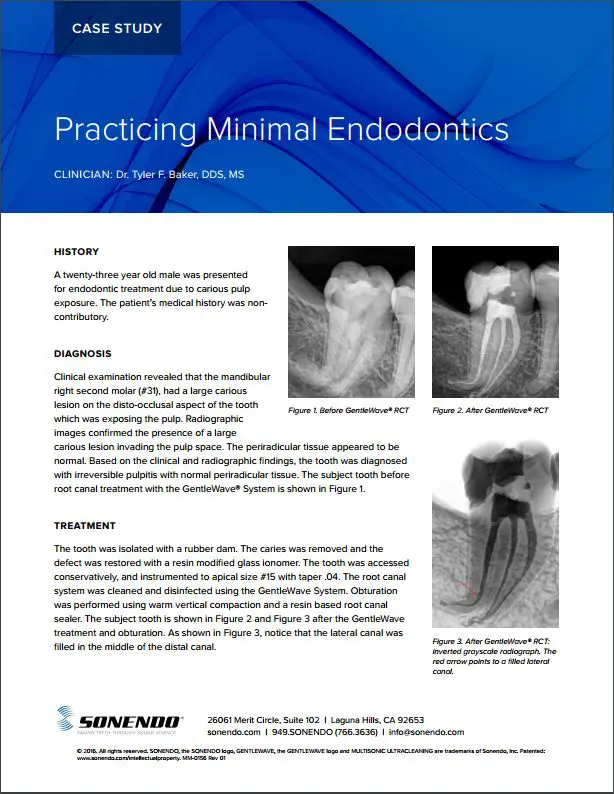 PRACTICING MINIMAL ENDODONTICS
A mandibular right second molar with a large carious lesion invading the pulpal space was treated with the GentleWave System. The entire root canal system including the lateral canal was cleaned and obturated.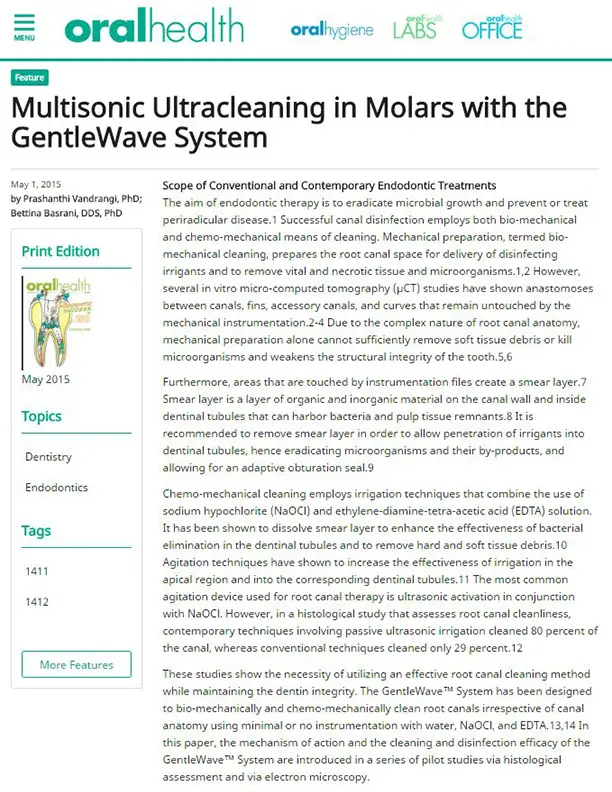 EFFICIENCY OF THE GENTLEWAVE® SYSTEM IN REMOVING SMEAR LAYER AND TISSUE DEBRIS FROM THE ROOT CANAL SYSTEM
Conclusions: Root canal systems were completely cleaned following minimal instrumentation and when treated with the GentleWave System.
© Associates in Endodontics. All Rights Reserved • Web Design by Studio Haideux